KN95 Nano-level Protection Face Masks (Anti Pollution Anti Haze Ati-Bacteria with CE ISO FDA Registered and CDC Recommended):
Implementation standards: GB2626-2006 (Non-medical). Exported to the USA.

Main features:
1.KN95 Protection Masks are our company's most popular supplies, which have four layers, and the filtering effect reaches the N95 level or higher, because we adopt Meltblown electrostatic cotton and nanofiber composite structure, which achieves gradient filtration efficiency from micron to nanometer level! National Patent No.: ZL201811048419.9

2.Our KN95 protective mask has been registered on FDA and approved to sell in the U.S.! Please check all of our certificates at the end part of the page.

3.The mask can be used in a variety of environments, even in humid and disinfected environments, and can still maintain high filtration efficiency.

4.This product uses ultra-fine nanofibers as the core filter layer, with a filtration accuracy of less than 100nm, which can effectively intercept ultrafine particles such as respiratory droplets, PM2.5, and viruses.

5.Anti-blood penetration: We have done a test: after spraying 2ml of synthetic blood pressure at 10.7 Kpa (80mmHg) pressure to the outer side of the mask, there will be no penetration inside the mask!

6.Weak breathing resistance: Compared with the breathing resistance of 240pa of other N95 masks, the breathing resistance of this product is less than 140pa, and the breathing is smoother.

7.Strong surface moisture resistance: The product's moisture resistance conforms to the regulations higher than level 3 in GB/T 4745-1997!
Multi-Layer Nano-filtration Protection can filter out 95% particles of 0.3

μm

 

in the air. 
Non-woven protection layer: prevent infiltration of mist and water vapor;
Meltblown electrostatic cotton: effectively isolates fine dust particles;
Nanofiber membrane: new nanotechnology can be used repeatedly;
Non-stick non-woven support layer: sweat and oil absorption, skin-friendly and comfortable.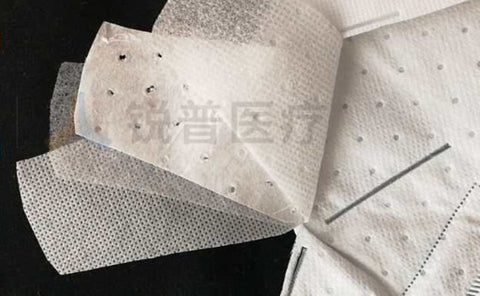 M-shaped nose clip. The mask is cut in 3D fits for almost any size/shape face. 
Made of high quality cotton and non-woven fabric, which is non-irritating and non-allergenic to you.
Ati-bacteria, Dust Proof, etc.
PACKAGE DETAILS:
1.The outer box size: 15*20*4cm (l*w*h).
2.Each box includes 5 pcs of independent packages, clean and hygienic.
3.Each box weight: 79.82g.
4.1000 pcs of masks for each carton if with box. 2000 pcs of masks for each carton if without box.
5.Each carton weight: 16kg.